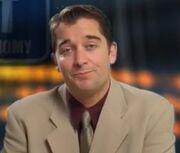 Zvika Fohrman (also credited in English as Zvika Furman; Hebrew: צביקה פורמן, born September 25th, 1969 in the United States) is an Israeli voice actor and narrator who joined the Hebrew voice cast of Thomas & Friends in the twentieth season.
He is known for voicing Wolverine in "X-Men: The Animated Series", the title character of "Zoboomafoo", Campmaster Strauch from "Up", Mayor Brown from the 2010 "Yogi Bear" film, Miles Axlerod from "Cars 2", Cyborg from "Teen Titans" and "Teen Titans Go!", Sheriff Blubs and Deputy Durland from "Gravity Falls", Daffy Duck in "The Looney Tunes Show", Dukey from "Johnny Test", Craig from "Sanjay and Craig", the March Hare from "Alice Through the Looking Glass", Justin from "Star vs. the Forces of Evil", and numerous other roles.
Voices
Trivia
He, Agnieszka Kunikowska, Prokhor Chekhovskoy, Guilherme Briggs, Naoki Tatsuta, Grzegorz Kwiecień, Stefan Knothe, Jim Cummings, Alfonso Ramírez, Kari Tamminen, César Soto, Luise Lunow, Masashi Ebara, Tesshō Genda, Irwin Daayán, Saar Badishi, Przemysław Stippa, Daisuke Gōri, Hadar Shachaf Ma'ayan, Ernesto Lezama, Luis Alfonso Mendoza, Cezary Kwieciński and Simcha Barbiro have all worked on "Looney Tunes".
"Welcome to the Steamworks, my friend!"

This article is a stub. You can help by expanding it.