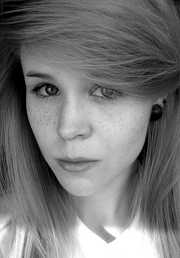 Zuzanna Galia (born December 22, 1991) voices characters in the Polish narration of Thomas and Friends. She is Ewa Serwa and Paweł Galia's daughter.
She is best known for dubbing Ginevra "Ginny" Weasley from the "Harry Potter" films, Mai and Suki from "Avatar: The Last Airbender", Moondancer from "My Little Pony: Friendship is Magic", Cheetah and Starfire from "DC Super Hero Girls" and Bridgette from "Phineas and Ferb".
Voices
Trivia
She played Toph from "The Legend of Korra", the same role Justyna Bojczuk played from the original show.
She, Geneviève Déry, Robert Wilfort, Rolando de Castro, Claes Ljungmark, Leyla Rangel, Ruth Toscano, Nathan Clarke, Simon Fisher-Becker, César Izaguirre, César Árias, Katsuji Mori, Yigal Mizrachi, Hideyuki Umezu, José Luis Orozco, Jesse Grimm, Aryeh Cherner, Ángel Amorós, Tokuyoshi Kawashima, Octavio Rojas, Scott Maurstad, John Hurt, Humberto Vélez, Jorge Santos, Irwin Daayán, Masashi Ebara, Blas García, Dov Reiser, Albert Cohen, Hadar Shachaf Ma'ayan, Zvika Schwartzberg, Jamie Campbell Bower, Thomas Fritsch, Norma Iturbe, and Rob Rackstraw have all worked on the "Harry Potter" films. Angela Kyriacou and Eddie Redmayne also had roles in it's prequel "Fantastic Beasts and Where To Find Them".
She, Analiz Sánchez, Mikołaj Klimek, Héctor Moreno, Enrique Cervantes, Susana Moreno, Michał Podsiadło, Claudia Motta, Javier Olguín, Simen Sand, Klaudiusz Kaufmann, Justyna Bojczuk, Anna Gajewska, Ricardo Silva, Carlos Hernández, Ewa Serwa, Loretta Santini, Irina Índigo, Zbigniew Konopka, Isabel Romo, Raúl Solo, Kim Seung-jun, Grzegorz Kwiecień, Jacek Król, Benedikte Kruse, Eduardo Fonseca, Annie Rojas, Sergio Morel, Elsa Covián, Julia Kołakowska-Bytner, Susa Saukko, Kenta Miyake, Joanna Pach-Żbikowska, Moisés Iván Mora, Mia Kadosh, Masashi Ebara, Igor Cruz, Norma Iturbe, Petri Hanttu, Hiroshi Iwasaki, Anna Apostolakis, Tiril Heide-Steen, Przemysław Stippa, Markus Bäckman, Leszek Zduń, Janusz Wituch, Talya Barkay, Edson Matus, Paweł Szczesny, Gerald Schaale, Leyla Rangel, Piotr Bajtlik, and Tesshō Genda have all starred in "My Little Pony: Friendship is Magic".
"Welcome to the Steamworks, my friend!"

This article is a stub. You can help by expanding it.