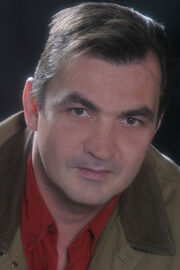 Zoltán Csankó (born in Szolnok, Hungary on May 29th, 1962) is the current narrator of Thomas and Friends in Hungary. He is best known for dubbing such film characters as Bruce Baxter from "King Kong", Verne the Turtle from "Over the Hedge", Jay Limo on "Cars", Harry Bright on "Mamma Mia!", and TV roles such as Red Forman on "That 70's Show".
Trivia
Both he and Pierce Brosnan appeared in "Mamma Mia!".
Both he and Humberto Vélez voiced Verne from "Over the Hedge" in their respective languages.

"Welcome to the Steamworks, my friend!"

This article is a stub. You can help by expanding it.
Ad blocker interference detected!
Wikia is a free-to-use site that makes money from advertising. We have a modified experience for viewers using ad blockers

Wikia is not accessible if you've made further modifications. Remove the custom ad blocker rule(s) and the page will load as expected.