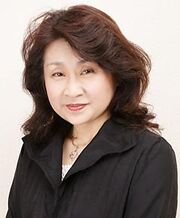 Yoko Asagami (麻上洋子, born July 10, 1952 in Otaru, Hokkaido) is a Japanese voice actress. She has narrated stories from the Railway Series on some Japanese DVDs.
She is best known for voicing Yuki Mori from "Space Battleship Yamato", Saeko Nogami from "City Hunter", and Marie Hudson from "Sherlock Hound".
Trivia
Ad blocker interference detected!
Wikia is a free-to-use site that makes money from advertising. We have a modified experience for viewers using ad blockers

Wikia is not accessible if you've made further modifications. Remove the custom ad blocker rule(s) and the page will load as expected.