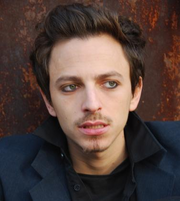 Yehonatan Magon (Hebrew: יהונתן מגון, born on April 10th, 1986) is an Israeli actor and voice actor who provides voices in the Hebrew narration of Thomas & Friends. He is the brother of Eliana and Daniel Magon.
He is known for voicing Leonardo in the 2012 "Teenage Mutant Ninja Turtles" and Cody Jones in the 2003 series, "Spiderman" since 2014, Finn from "Adventure Time", Timothy from "Martha Speaks", Robbie from "Gravity Falls", Ash Ketchum and Harley from "Pokémon", various characters from the "Digimon" series, Cliffjumper from "Transformers: Prime", Mumble from the "Happy Feet" films, Kirby Kowalski from the 2013 "Max Steel" series, Kevin Levin from the "Ben 10" series, and Nod from "Epic".
Voices
Trivia
Ad blocker interference detected!
Wikia is a free-to-use site that makes money from advertising. We have a modified experience for viewers using ad blockers

Wikia is not accessible if you've made further modifications. Remove the custom ad blocker rule(s) and the page will load as expected.