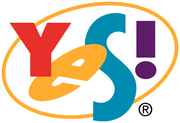 YES! Entertainment is an organisation that released home videos for the TV Teddy range in 1993, including the Thomas the Tank Engine and Friends tape, Thomas and Bertie's Great Race and Other Adventures and the Shining Time Station episode, Sweet and Sour.
YES! Entertainment also released other popular children's shows for the TV Teddy series, including The Berenstain Bears and the original Teenage Mutant Ninja Turtles.
"Welcome to the Steamworks, my friend!"

This article is a stub. You can help by expanding it.
Ad blocker interference detected!
Wikia is a free-to-use site that makes money from advertising. We have a modified experience for viewers using ad blockers

Wikia is not accessible if you've made further modifications. Remove the custom ad blocker rule(s) and the page will load as expected.