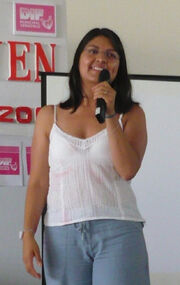 Xóchitl Ugarte (born on April 21st, 1979) is a Latin American voice actress who voiced in the Spanish dub of Thomas and the Magic Railroad.
She is most notable for voicing Brandy Harrington from "Brandy & Mr. Whiskers", Huey Freeman from "The Boondocks", Junior Asparagus from "VeggieTales in the House", and Misty in "Pokémon" in Spanish. She is also the official voiceover for Keira Knightley and Sabrina Bryan.
Voices
Patch (Thomas and the Magic Railroad)
Trivia
External Link
Ad blocker interference detected!
Wikia is a free-to-use site that makes money from advertising. We have a modified experience for viewers using ad blockers

Wikia is not accessible if you've made further modifications. Remove the custom ad blocker rule(s) and the page will load as expected.