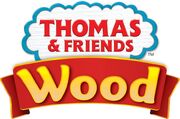 Wood is a Thomas & Friends merchandise line that consists of wooden models, tracks and accessories and is a railway system created by Mattel and released in Fall 2017 and worldwide in 2018. The line is a successor to the Wooden Railway line, having vehicles with visible wood and heat transfer decals. The line is compatible with Wooden Railway and other brands but the track system features new connectors, so adaptors are included with sets and destinations to connect with Wooden Railway and similar track from other brands.
Engines
2017
2018
Rolling Stock
2017
Multi-Car Packs
2017
Non-Rail Vehicles
2017
Buildings and Destinations
2017
Track Packs
2017
Straight and Curved Pack
Turnout Track Pack
Bridge Track Pack
Sets
2017
Starter Set
Animal Park Set
5-in-1 Builder Set
Snowy Rails Set
Lift and Load Cargo Set
Racing Figure-8 Set
Trivia
Unlike Wooden Railway, which used static wooden figurines, Wood features plastic figures with poseable legs, allowing them to sit in various vehicles and rolling stock. These figurines follow the same design of the ones produced by BRIO.
All the characters have revamped bodies with additional detail, showing wood sections, and new face and smoke box sculpts. Buffers and buffer beams are also painted on as well. Engines are all about the same length with four or six wheels. In addition all the characters have white dots in their eyes.
The logo for the Forest Stewardship Council (FSC) is displayed on the lower-right corner of the boxes.
External Links
Ad blocker interference detected!
Wikia is a free-to-use site that makes money from advertising. We have a modified experience for viewers using ad blockers

Wikia is not accessible if you've made further modifications. Remove the custom ad blocker rule(s) and the page will load as expected.