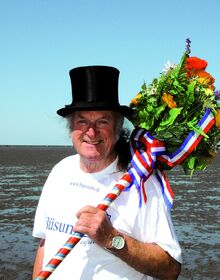 Wolfgang Willi Joachim Kubach (born in 1929 or 1930) is a German percussionist, actor, voice imitator and former "Wattenpräsident" from Büsum, who provided a voice for the German audio books of Thomas & Friends.
Voices
Trivia
He, Holger Mahlich, Thomas Fritsch, Dirk Bach, Patrick Bach, Robin Brosch, Sascha Draeger, Konstantin Graudus, Eberhard Haar, Fabian Harloff, Lutz Herkenrath, Till Huster, Henry König, Helmut Krauss, Martin May, Tetje Mierendorf, Robert Missler, Sky du Mont, Renate Pichler, Christian Rudolf, Tobias Schmidt, Rainer Schmitt, Achim Schülke, Christian Stark, Bernd Stephan, Manfred Steffen, Marion von Stengel, Peter Weis, Andreas von der Meden, Wolfgang Hartmann, Sabine Hahn, Thorsten Weber, Eckart Dux, Gosta Liptow, Celine Fontanges, Luise Lunow, Oliver Rohrbeck and Santiago Ziesmer have worked on "The Three Investigators".
Ad blocker interference detected!
Wikia is a free-to-use site that makes money from advertising. We have a modified experience for viewers using ad blockers

Wikia is not accessible if you've made further modifications. Remove the custom ad blocker rule(s) and the page will load as expected.