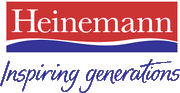 William Heinemann, now commonly known as simply Heinemann, is a publishing group which has published several Thomas books, including Wilbert Awdry's biography, The Thomas the Tank Engine Man.
It was founded by William Heinemann in 1890 in the UK after Nicholas Trübner's death.
Its parent company for its UK trade is Random House Books. Nowadays, Heinemann is one of the leading publishers for educational books.
Books
External links
Ad blocker interference detected!
Wikia is a free-to-use site that makes money from advertising. We have a modified experience for viewers using ad blockers

Wikia is not accessible if you've made further modifications. Remove the custom ad blocker rule(s) and the page will load as expected.