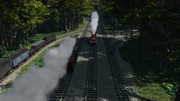 Whistling Woods Junction is the junction to get into Whistling Woods. Engines also shunt trucks at this junction. It is located on the Ulfstead Branch Line.
Toby bumped trucks there due to his cowardliness to the Whistling Woods. Whiff had to collect a truck of rubbish there.
Ad blocker interference detected!
Wikia is a free-to-use site that makes money from advertising. We have a modified experience for viewers using ad blockers

Wikia is not accessible if you've made further modifications. Remove the custom ad blocker rule(s) and the page will load as expected.