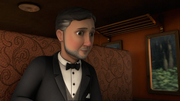 Whispering Woods is a forest where the schoolchildren's summer picnic is held. Because of this, the children are often seen playing here. It first appeared in the thirteenth season and appeared a few times afterwards.
It was one of the places Thomas tried to take a composer to hear the sounds of Sodor. However, Mavis interrupted them.
It is located in the southeast of Killdane and west of Kirk Ronan Junction and Kellsthorpe Road. It should not be confused with the Whistling Woods.
Merchandise
Ad blocker interference detected!
Wikia is a free-to-use site that makes money from advertising. We have a modified experience for viewers using ad blockers

Wikia is not accessible if you've made further modifications. Remove the custom ad blocker rule(s) and the page will load as expected.