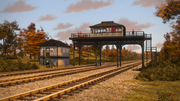 Wellsworth Junction is the junction to Edward's Branch Line. A signal box stands on a gantry over the Main Line.
It was introduced in the eighteenth season episode, Spencer's VIP when Spencer was switched onto Edward's Branch Line by accident.
It replaced Suddery Junction until the twenty-first season episode Emily in the Middle.
Appearances
Trivia
For some unknown reason, Wellsworth Junction consists of two signalboxes; one on the side of the main line, and the other on a gantry above the tracks.
Gallery