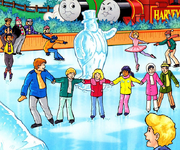 Wellsworth Ice Skating Rink is an ice rink located near Wellsworth. It appears to be on Edward's Branch Line. Percy came up with the idea of having an ice rink for the children. It opens up every winter, and Stephen and Bridget were the first ones to play in it.
It only appeared in the magazine story, The Railway Rink.
"Welcome to the Steamworks, my friend!"

This article is a stub. You can help by expanding it.
Ad blocker interference detected!
Wikia is a free-to-use site that makes money from advertising. We have a modified experience for viewers using ad blockers

Wikia is not accessible if you've made further modifications. Remove the custom ad blocker rule(s) and the page will load as expected.