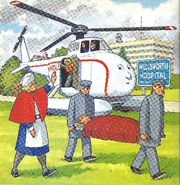 St Tibba's Hospital, also known as Wellsworth Hospital[1], is the main medical facility on the Island of Sodor, situated at Wellsworth.
History
St Tibba's Hospital was established by an Order of nuns, the Poor Clares, in the 13th century, who built it around the well near their Nunnery, the water from which was said to perform remarkable cures. Though King Henry VIII nominally suppressed the Order in 1534, the Sudrian interpretation of the Act secured that St Tibba's Hospital remained and expanded as need arose. Shortly before 1987, it was rebuilt on a new site and has deservedly the highest reputation of any hospital on the Island. It is a large, modern facility and serves people from across the Island.[2]
Harold once rescued some injured hikers and took them to the hospital.
Appearances
Merchandise
Gallery
References