"You shouldn't listen to rumours, Thomas."

This article contains information on an upcoming product that is subject to change.
"Excuse me, are you a vandal? Driver told me vandals break in and smash things."

This article has been protected due to the threat of vandalism.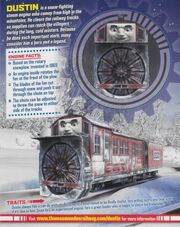 Welcome to the Island of Sodor Dustin! was a cancelled video that was expected to be released in 2016 on the Wooden Railway website to advertise the Dustin Comes in First and Dustin and the Sodor Storm Team sets.
Characters
Cast
Gallery
Ad blocker interference detected!
Wikia is a free-to-use site that makes money from advertising. We have a modified experience for viewers using ad blockers

Wikia is not accessible if you've made further modifications. Remove the custom ad blocker rule(s) and the page will load as expected.