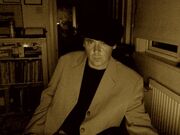 Wayne Jackman was an episode writer for Thomas and Friends. He has also written for many other children's shows including, "Rainbow Days", "Blue Peter", "Postman Pat", "Playschool", "Tweenies", "Balamory", "Fifi and the Flowertots", "Bodger and Badger", "Zig and Zag", "The Fimbles", "Roary the Racing Car", "Timmy Time", and many others. He has written thirty-five children's books and five children's stage shows. He also worked as a presenter and writer on "Playschool" and has acted in various roles on stage, screen, and radio.
Episodes
External links
Trivia
Ad blocker interference detected!
Wikia is a free-to-use site that makes money from advertising. We have a modified experience for viewers using ad blockers

Wikia is not accessible if you've made further modifications. Remove the custom ad blocker rule(s) and the page will load as expected.