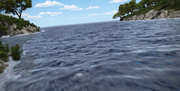 The Walney Channel is a large river that flows in-between the Island of Sodor's eastern ends and The Mainland.
The Vicarstown Bridge is the only bridge that crosses over the Walney Channel, the bridge was constructed in 1915 to connect the North Western Railway with the British Railways, as many engines will be coming and going.
The Walney Channel first appeared in the 2013 special, King of the Railway, and has appeared ever since.
Trivia
Gallery