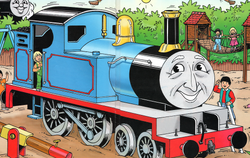 Victor
Victor is an old blue tank engine, who only appeared in the magazine stories.
Bio
Victor was retired, and having been withdrawn from service, he was nearly scrapped. However, he was later discovered and restored into a children's playground. James was responsible for him when he was on a flatbed. However, James later accidentally lost him and found him in the playground. Victor now sits in a park, and enjoys the company of children around him.
Basis
Victor is loosely based on the 4-4-0 side-tank engines built by Hudswell, Clarke & Co., for the Midland & Great Northern Joint Railway.
Livery
Victor is painted in the North Western Railway's blue with red lining. His dome and safety valves are also painted yellow, and his wheels are painted grey.