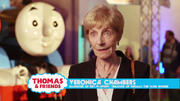 Veronica Chambers (née Awdry) (born 1941) is the daughter of Wilbert and Margaret Awdry, sister of Christopher and Hilary, a niece of George Awdry, an aunt of Richard Awdry and Simon, Rachel, and Sara Fortnam, the great-aunt of Ruth Fortnam, a granddaughter of Lucy and Vere Awdry, and the sister-in-law of Diana Awdry.
She was interviewed for BBC's "The One Show" in January 2014 and "Songs of Praise" in October 2015, speaking about her father and how the Railway Series came about, and attended the 70th anniversary celebrations at the British Museum in May 2015. She also appeared in the Japanese documentary Secret Journey of Thomas the Tank Engine.
She currently lives in her father's last house in Stroud.
Gallery
"Welcome to the Steamworks, my friend!"

This article is a stub. You can help by expanding it.
Ad blocker interference detected!
Wikia is a free-to-use site that makes money from advertising. We have a modified experience for viewers using ad blockers

Wikia is not accessible if you've made further modifications. Remove the custom ad blocker rule(s) and the page will load as expected.