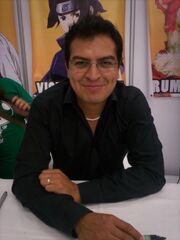 Víctor Ugarte (born October 31, 1976) is a Mexican voice actor who voiced in the Mexican Spanish dub of Thomas and the Magic Railroad.
He is best known for voicing Hot Dog from "Krypto the Superdog", Uryū Ishida from "Bleach", Son Goten from "Dragonball Z," Master Shake from "Aqua Teen Hunger Force," and Sasuke Uchiha from "Naruto". He is also the official voiceover for Daniel Radcliffe.
He is the older brother to Xóchitl Ugarte.
Voices
Thomas (Thomas and the Magic Railroad)
Trivia
He, along with Tokuyoshi Kawashima and Caspar Phillipson voiced Casey Jones from the 2007 "TMNT film in their respective languages.
He with Héctor Emmanuel Gómez, and Enzo Fortuny, provided voices in the 2011 film The Smurfs.

Jan-David Rönfeldt, Dariusz Błażejewski, Achim Schülke, Don Spencer, Stan Limburg, Francisco Colmenero, Marek Robaczewski, Ron Druyan, Armando Réndiz, Jamie Thomason, Franz Josef Steffens, Alejandro Mayén, Andreas von der Meden, Holger Mahlich, Douglas Welbat and Christian Stark have also worked on "The Smurfs".

He, Alan Prieto, Hisayo Mochizuki, Manuel Campuzano, Roberto Mendiola, Salvador Reyes, Noriko Shitaya, Shinichirō Miki, Hideo Ishikawa, Edson Matus, Liliana Barba, Irina Índigo, Isabel Romo, Masaharu Satō, Kenta Miyake, Junko Noda, Houko Kuwashima, Shōto Kashii, Luis Alfonso Mendoza, Tetsu Inada, Nobutoshi Canna, Eduardo Garza, José Luis Orozco, Humberto Vélez, Gerardo Reyero and Kiyoyuki Yanada have all worked on "Bleach".
External links