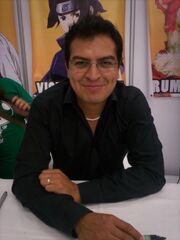 Víctor Ugarte (born October 31, 1976) is a Mexican voice actor who voiced in the Mexican Spanish dub of Thomas and the Magic Railroad.
He is best known for voicing Hot Dog from "Krypto the Superdog", Uryū Ishida from "Bleach", Son Goten from "Dragonball Z," Master Shake from "Aqua Teen Hunger Force," and Sasuke Uchiha from "Naruto". He is also the official voiceover for Daniel Radcliffe.
He is the older brother to Xóchitl Ugarte.
Voices
Thomas (Thomas and the Magic Railroad)
Trivia
External links