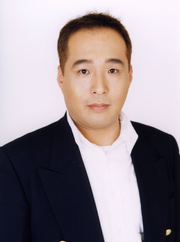 Tsutomu Densaka (伝坂勉, born on April 16th) is a Japanese voice actor who voices characters in the Japanese narration of Thomas & Friends.
He is best known for voicing Ghostfreak from the "Ben 10" series", Gumpers from "Pet Alien", Vladimir Trunkov from "Cars 2", Zangoose from "Pokémon", and Samson from "Camp Lazlo".
Voices
Trivia
Both he and Cezary Kwieciński played Samson from "Camp Lazlo" in their respective languages.
He, along with Kōichi Sakaguchi and Kunihiro Kawamoto voiced characters from "Pet Alien".
He, Adriana Casas, Loukas Frangoulis, Piotr Bąk, Paul Disbergen, Mikołaj Klimek, Bartosz Martyna, Tokuyoshi Kawashima, Dor Srugo, Mildred Barrera, Roberto Gutiérrez, Finn Poncin, Hinako Sasaki, Shinichirō Miki, Hisao Egawa, Javier Olguín, Kōichi Sakaguchi, Katsuji Mori, Susa Saukko, Janusz Wituch, Pasi Ruohonen, Dariusz Błażejewski, Kiyoyuki Yanada, Waldemar Barwiński, Junichi Kanemaru, Artur Pontek, Hiroshi Tsuchida, Krzysztof Szczerbiński, Josie Yee, Diana Pérez, Grzegorz Drojewski, Klaudiusz Kaufmann, Mayra Arellano, Sander de Heer, Hiroko Emori, Naomi Shindō, Justyna Bojczuk, Miłogost Reczek, Bruno Coronel, Xóchitl Ugarte, Miguel Ángel Leal, Noriko Shitaya, Anna Gajewska, Gaby Ugarte, Hiro Nakajima, Roberto Mendiola, Chikara Osaka, Kan Tanaka, Yohei Nishina, Salvador Reyes, Yuri Shiratori, Bin Shimada, Ángel Amorós, Kenta Miyake, Keiko Toda, Octavio Rojas, Masaharu Satō, Trond Teigen, Kiyonobu Suzuki, Talya Barkay, Yehonatan Magon, Kumiko Higa, Nir Ron, Joanna Pach-Żbikowska, Scott Maurstad, Olga Kuznetsova, Jan Kulczycki, Moisés Iván Mora, Tomohiro Nishimura, Piotr Bajtlik, Hideki Takahashi, Alan Prieto, Beata Jankowska-Tzimas, Tetsu Inada, Nobutoshi Canna, Krystyna Kozanecka, Masayuki Omoro, Simen Sand, Gadi Levy, Paweł Szczesny, Erik Skjøld, Leonardo García, Dafnis Fernández, Adrian Perdjon, Gerardo García, Józef Mika, Lena Meieran, Manuel Campuzano, César Árias, Dulce Guerrero, Armando Coria, Salvador Serrano, Leyla Rangel, Samuel Harjanne, Cezary Kwieciński, Hikaru Midorikawa, Juha Paananen, Hugolin Chevrette-Landesque, José Ángel Torres, Elise Langenoja, Markus Bäckman, Jorge Ornelas, Henri Piispanen, Arto Nieminen, Timo Kinzel, Katharina von Keller and Pauli Virta have all worked on "Pokémon".
External link