"Even though it's a long time since I worked on Thomas the Tank Engine, I can't remember that neither me nor others reacted negatively to the series, on the contrary actually. I see the series as playful, cute, and innocent, and not a bad role model for children at all. Thomas the Tank Engine has a generally warmer tone than much of what's being made now."
―Trond Teigen on the show's criticism, 2015 VG interview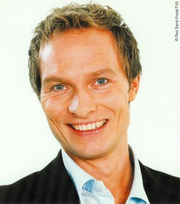 Trond Teigen (born 24 December 1964 in Oslo) is a Norwegian actor and voice actor who provides voices for the Norwegian version of Thomas & Friends
He provides voices for "SpongeBob SquarePants", "Toy Story", "Fairly Odd Parents", "Pokémon", "Iron Man" and various other shows and films. He also voiced Bentley in the "Sly Cooper" video games, the title character in "Balto", and the title character in "SpongeBob SquarePants". He has appeared in the Norwegian television show "Mot i Brøstet" and played Dr. Sebastian Bøver from "Holms".
He joined the voice cast in Blue Mountain Mystery.
In 2015, Trond, along with Tiril Heide-Steen, Mari Maurstad, and Terje Strømdahl, was interviewed by the Norwegian newspaper "VG" about the criticism Thomas and Friends gets. He states that Thomas has a generally warmer tone than most shows that are made these days, and that he thinks Thomas and Friends is playful, cute, and innocent, as well as a good role model for children.
Voices
Trivia
External Link