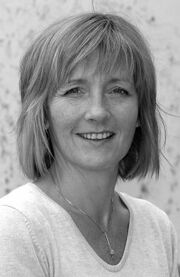 Trine Lossius Borg is a Norwegian voice actress. She narrated the first - fourth seasons in the Norwegian dub of Thomas & Friends from 1986-1997. She was also the voice of Thomas, Henry, Percy, Toby, and the Fat Controller in the Trouble on the Tracks game.
She is best known for doing voiceover work in various commercials and  informational videos. She also does voiceovers for Disney and narrated "Nå skal du høre". She is currently working on Samtext.
"Welcome to the Steamworks, my friend!"

This article is a stub. You can help by expanding it.