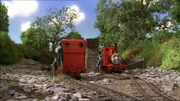 The Old Trestle Bridge is a bridge that runs over the River Hoo on the Skarloey Railway.
It is located between Green Hills Junction and Culdee Fell Hill northeast of Great Waterton.
It only appeared in the seventh season, where it broke, causing Skarloey to have a near miss. Rheneas later ran out of water on the bridge, and Skarloey had to go and rescue him.
Ad blocker interference detected!
Wikia is a free-to-use site that makes money from advertising. We have a modified experience for viewers using ad blockers

Wikia is not accessible if you've made further modifications. Remove the custom ad blocker rule(s) and the page will load as expected.