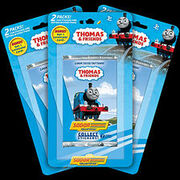 The Trading Cards are made by The Upper Deck Company in conjunction with HiT Entertainment. Entitled Thomas & Friends Sodor Adventures Collectipak, the 18-card set includes stickers, tattoos, and pop-up cards of the most popular characters from Thomas and Friends. Previous to this series, Gullane had released a 100 card set in 2002.
2002 Cards
Characters
Adventure Cards
Foil Cards
Thomas
James
Percy
Lady
Diesel 10
2010 Cards
Characters
Locations
Trivia
D199 is incorrectly depicted with a Co-Co wheel arrangement whilst Daisy is given a Co-Bo wheel arrangement.
Mike, Rex and Bert are incorrectly depicted as 4-8-2's.
Mike is depicted with no front coupling.
Neil is depicted with no eyebrows.
Peter Sam is depicted with green wheels.
Mr. Conductor is simply referred to as "The Conductor".
Wilbert and Sir Handel are both illustrated with white wheels.
Gallery
2002 Trading Cards
The Great Discovery
2010 Cards