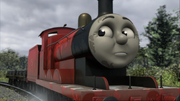 Town Square is where the Town Hall of Tidmouth is situated. Alicia Botti annually performs here and the children's snowman party is held here. The Town Hall also has a library on site. The North Western Railway has a station here with two platforms and a footbridge. There are also several shops nearby. The dinosaur skeleton dug up by Marion in Tale of the Brave stands outside the town hall.
It first appeared in the thirteenth season episode, Tickled Pink, it has appeared regularly since.
During Christmas time, a Christmas tree stands outside the town hall. A skating rink once was set up in front of the town hall.
Trivia
Gallery