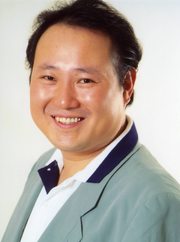 Toshiharu Sakurai (born July 3, 1964 in Tokyo) is a Japanese voice actor who provided voices in the Japanese version of Thomas and Friends. He is best known as the voice of Michelangelo from both the original "Teenage Mutant Ninja Turtles" and the 1990s film series, Mokomoko from "Dragon Warrior", Morocco Mole from "2 Stupid Dogs", Onsen-kun from "Soreike! Anpanman", Big Billy from "Powerpuff Girls Z", Pig and Arnold from "Kipper", Harisenbon from "One Piece", and the official voice for Shaggy Rogers from the "Scooby-Doo" series.
Voices
Trivia
Ad blocker interference detected!
Wikia is a free-to-use site that makes money from advertising. We have a modified experience for viewers using ad blockers

Wikia is not accessible if you've made further modifications. Remove the custom ad blocker rule(s) and the page will load as expected.