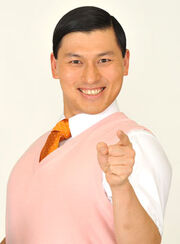 Toshiaki Kasuga (born 9 February 1979 in Tokorozawa, Saitama) is a Japanese comedian who voiced characters in the Japanese narration of Thomas and Friends. He is most famous for being the ditz member of the comedy duo "Audrey" along with Masayasu Wakabayashi. He is also famous for being in various commercials.
Voices
Gallery
External links
Ad blocker interference detected!
Wikia is a free-to-use site that makes money from advertising. We have a modified experience for viewers using ad blockers

Wikia is not accessible if you've made further modifications. Remove the custom ad blocker rule(s) and the page will load as expected.