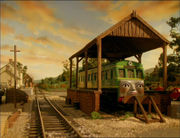 By Toryreck is a small shed that Daisy normally stayed in, though it is also used for placing rolling stock if she is not there.
Since Daisy moved to the Harwick Branch Line, it is now probably used as spare storage for another engine or rolling stock.
It is only seen in the fourth season.
Appearances
Trivia
Gallery
Ad blocker interference detected!
Wikia is a free-to-use site that makes money from advertising. We have a modified experience for viewers using ad blockers

Wikia is not accessible if you've made further modifications. Remove the custom ad blocker rule(s) and the page will load as expected.