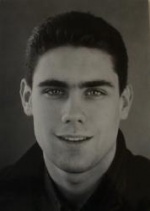 Tony Marot is a French actor who provides voices in the French dub of Thomas & Friends.
He was also the French voice of Sokka in "Avatar: The Last Airbender", Sengoku and Wyper from "One Piece", Tako Maki from "Sushi Pack", Michael Kelso from "That '70s Show", Snotrod from "Cars", Caliban 'Cal' Dal Salan from "Tara Duncan", Henry Wong from "Digimon Tamers", Clark Kent from "Smallville" and Wu-Fei Chang from "Mobile Suit Gundam Wing".
Voices
Trivia
Both he and Ryuzou Ishino voiced Wu-Fei Chang from "Mobile Suit Gundam Wing" in their respective languages.
He, Nobuaki Kanemitsu, Ángel Amorós, Roberto Mendiola, Lupita Leal, Héctor Moreno, Jorge Teixeira, Yasuhiro Takato, Fabrice Trojani, Ewa Serwa, Gerald Schaale, José Arenas, Ricardo Silva, Yasunori Masutani, Taisto Oksanen, Taisuke Yamamoto, Ambrogio Colombo, Satoshi Taki, Yehonatan Magon, Masaharu Satō, Nir Ron, Gerardo Reyero, Junko Noda, Houko Kuwashima, Marie-Luise Schramm, Mireya Mendoza, Igor Cruz, Nanaho Katsuragi, Benjamín Rivera, Arturo Mercado Jr., Pedro D'Aguillón Jr., Tom Deininger, Hiroaki Hirata, Óscar Flores, Irwin Daayán, Yoram Yosefsberg, Carlos Hernández, Chie Kōjiro, Agnieszka Kunikowska, Manuel Campuzano, Dor Srugo, Bin Shimada and Talya Barkay have all worked on "Digimon".
"Welcome to the Steamworks, my friend!"

This article is a stub. You can help by expanding it.