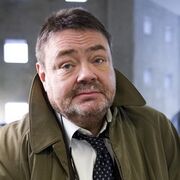 Tommy Kenter (born on April 15th, 1950 in Copenhagen) is a Danish actor who used to narrate the Danish version of Thomas & Friends from the fifth season to the seventh. He was succeeded by his predecessor Povl Dissing from the eighth to the sixteenth seasons and by Lars Mikkelsen from the seventeenth season onwards.
He played the role of Kjeld Jensen in "Olsen Gang's Last Trick" following Poul Bundgaard's death during filming and the voice of Kjeld Jensen was done by Kurt Ravn. He also voiced Fagin from Disney's "Oliver and Company", Heimlich from "A Bug's Life", Tuxedo Mask from "Sailor Moon" and Ramone from "Cars".
"Welcome to the Steamworks, my friend!"

This article is a stub. You can help by expanding it.