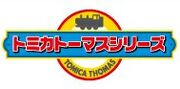 Tomica (Japanese: トミカトーマス) is a die-cast Thomas and Friends range made by Takara Tomy in 2004. In 2012, a new range was made where the engines have couplings, rolling stock, and a new track system.
Original range
Characters
2004
2005
Metallic Thomas (discontinued)
Duck (discontinued)
Donald (discontinued)
Emily (discontinued)
Murdoch (discontinued)
Bill (discontinued)
2006
2007
2008
Golden Thomas (discontinued)
Silver Percy (discontinued)
Ben (discontinued)
Cancelled
Sets
The sets can be folded up and some of them make the engines talk when placed on a certain area.
2004
2005
2006
2008
2009
Current range
Characters
2012
2013
2014
Thomas with Freight Cars set (discontinued)
Thomas
Henry (discontinued)
Gordon (discontinued)
Percy
Diesel 10
2015
2016
2017
Sets
2012
2013
Thomas Basic set (discontinued)
Blue Mountain Crossing set (discontinued)
2014
Suspensful Yard set (discontinued)
2015
Cranky and Big Mountain (discontinued)
2016
2017
Collectables
2011
Thomas with Troublesome log Truck and green Troublesome coal Truck
2013
2014
2015
Ōigawa Railway C11 Thomas (re-designed, discontinued)
Keihan Densya Thomas 2015
2016
Ōigawa Railway C11 Thomas (re-designed)
2017
Thomas Car
Thomas and Sir Topham Hatt
Various rides set (Keihan Densya Thomas 2017, Keihan Bus Thomas Direct Exp., Thomas Bus)
External links
Ad blocker interference detected!
Wikia is a free-to-use site that makes money from advertising. We have a modified experience for viewers using ad blockers

Wikia is not accessible if you've made further modifications. Remove the custom ad blocker rule(s) and the page will load as expected.