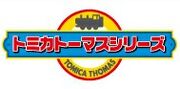 Tomica (Japanese: トミカトーマス) is a die-cast Thomas and Friends range made by Takara Tomy in 2004. In 2012, a new range was made where the engines have couplings, rolling stock, and a new track system.
Original range
Engines
2004
2005
Metallic Thomas (discontinued)
Duck (discontinued)
Donald (discontinued)
Emily (discontinued)
Murdoch (discontinued)
Bill (discontinued)
2006
2007
2008
Golden Thomas (discontinued)
Silver Percy (discontinued)
Ben (discontinued)
Non-rail characters
2006
Sets
The sets can be folded up and some of them make the engines talk when placed on a certain area.
2004
Small Station Sound Map
Cranky in the Harbor Sound Map
Yard
2005
Island of Sodor Big Bridge Three-Dimensional Map
Big Play Map
My Outing Bag
Let's Toot Together!
2006
2008
Deluxe Sheds with Thomas set (discontinued)
Boulder mountain with Percy set (discontinued)
Playmat with Thomas, Henry, and Harvey (discontinued)
Playmat with Percy, Toby, and Emily (discontinued)
Playmat with Gordon, James, and Diesel (discontinued)
2009
Playmat with Edward, Gordon, and Spencer (discontinued)
Playmat with Percy, Donald, and Douglas (discontinued)
Playmat with James, Bill, and Ben (discontinued)
Other
Tidmouth Sheds (discontinued)
Viaduct set (discontinued)
Docks set (discontinued)
Scrapyard (discontinued)
Ffarquhar mountain set with Thomas (discontinued)
Ffarquhar Station set with Thomas (discontinued)
Playmat (discontinued)
Driving engines set (discontinued)
Current range
Engines and rolling stock
2012
Thomas with Annie and Clarabel
Edward
Henry with red express coaches
Gordon with green express coaches
James
Percy with milk tanker, box van, and brake van
Diesel
Diesel 10 with tar tanker, fuel tanker, and troublesome truck
2013
2014
Thomas with Freight Cars set
Thomas (re-designed)
Edward (re-designed)
Henry (re-designed)
Gordon (re-designed)
James (re-designed)
Percy (re-designed)
Diesel 10
2015
2016
2017
2017 Movie Ver Thomas
Streamlined Thomas (coming soon)
Destinations
Sets
2012
Thomas, Percy, and Diesel 10 set
Main line set
Going Out Play Bag
Going Out Play Bag (mini)
Thomas and Cranky Smooth Railroad set
Station and Tunnel Scenery Set
2013
Thomas Basic set
Blue Mountain Crossing set
2014
2015
2017
Other
Collectables
2011
Thomas with Troublesome log Truck and green Troublesome coal Truck
2013
2014
Percy with oil tanker and brake van
Go to Thomas Land map set
Thomas Land Express (discontinued)
Oigawa Railway C11 Thomas
2015
Oigawa Railway C11 Thomas (re-designed)
Keihan Densya Thomas 2015
2016
Oigawa Railway C11 Thomas (re-designed)
Gallery
Original Range
Current Range
Collectables
Books
External links
Ad blocker interference detected!
Wikia is a free-to-use site that makes money from advertising. We have a modified experience for viewers using ad blockers

Wikia is not accessible if you've made further modifications. Remove the custom ad blocker rule(s) and the page will load as expected.