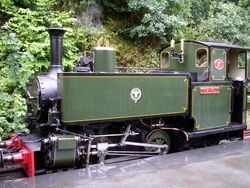 Tom Rolt
Number: 7, formerly 1, 43
Primary function: Passenger service
Class: originally Barclay E Class
Designer: Andrew Barclay Sons & Co., rebuild Talyllyn Railway
Builder: Caledonia Works, rebuilt Pendre Works
Built: 1949, rebuilt 1991
Gauge: 2ft 3in
Configuration: 0-4-2T, originally 0-4-0WT
Driving wheel diameter: 2' 0"
Trailing wheel diameter: 16"
Coupled wheelbase: 4' 4"
Total wheelbase: 9' 10"
Cylinder size (bore/stroke): 8.5 x 12"
Heating surface: 201 sq. ft.
Working pressure: 180 psi
Tractive effort: 5527 lbs
Weight: 14.25 tons
Length over buffers: 18' 8.5"
Tom Rolt was built at the Talyllyn's Pendre Works, using parts of a seldom-used 3ft gauge Andrew Barclay 0-4-0WT, built in 1949 for Bord na Mona, the Irish turf board. An 0-4-2T, it is the line's newest, largest, most powerful steam locomotive, having entered service in 1991. It is named after the author L. T. C. Rolt, who inspired the Talyllyn's preservation and was its manager in 1951 and 1952.
On May 6th, 1991, Tom Rolt's name was unveiled by L. T. C. Rolt's wife, Sonia.
In August 2000, Tom Rolt returned to service after its annual boiler inspection and overhaul. It always carries the standard TR deep bronze green livery. In 2007, Tom Rolt was withdrawn from service for an overhaul, but came back into service in early 2009.
Ivo Hugh is based on Tom Rolt.
Livery
Tom Rolt is running in the standard Talyllyn Railway green livery, lined with black borders and yellow lining.
Trivia
One of Tom Rolt's alternative names was at one point intended to be "Irish Pete".
Gallery
Ad blocker interference detected!
Wikia is a free-to-use site that makes money from advertising. We have a modified experience for viewers using ad blockers

Wikia is not accessible if you've made further modifications. Remove the custom ad blocker rule(s) and the page will load as expected.