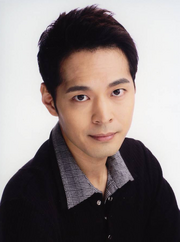 Tokuyoshi Kawashima (川島得愛, born on 8 February 1973) is a Japanese voice actor who provided voices in the Japanese version of Thomas & Friends.
He is most famous for voicing Oliver Wood from the "Harry Potter" films", Casey Jones from both the 2003 "Teenage Mutant Ninja Turtles" and "TMNT", Hawes from "Pokémon", Lance from "Pokémon Origins", William Jones from "Emma: A Victorian Romance", Gyouru-kun from "Soreike! Anpanman", Terry McGinnis from "Batman: Beyond", and Baymax from Disney's "Big Hero 6".
Voices
Trivia
External link
Ad blocker interference detected!
Wikia is a free-to-use site that makes money from advertising. We have a modified experience for viewers using ad blockers

Wikia is not accessible if you've made further modifications. Remove the custom ad blocker rule(s) and the page will load as expected.