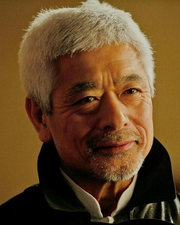 Togo Igawa (born in Tokyo on September 26th, 1946) is a Japanese actor who provides voices for both English language versions of Thomas & Friends. He has worked primarily in British film and television.
Voices
UK/US
Filmography
Films

"Incognito" (1998)
"The Last Samuri" (2003)
"Code 46" (2004)
"Stratosphere Girl" (2004)
"Revolver" (2005)
"Memories of Geisha" (2005)
"Irish Jam" (2006)
"Speed Racer" (2008)
"Le Herisson" (2009)
"Matter of Size" (2009)
"Night Train" (2009)
"Johnny English: Reborn" (2011)
"Gambit" (2012)
"Hector and the Search For Happiness" (2014)
"The Confessions" (2016)
"Star Wars: Episode VIII" (2017)

Television

"Lovejoy" (1992)
"Yu-Gi-Oh!" (2005)
"Robotboy" (2005-2008)
"Torchwood" (2006)
"Primeval" (2008)
"The IT Crowd" (2006-2008)
"European Train Journey's - BS Fuji" (2009)
"The Hedgehog" (2009)
"Thomas & Friends" (2009–present)
"Marco Polo" (2016)
"Doctor Who" (2017)

Games

"Mini Ninjas"
"Genji: Dawn of the Samuri"
"Shogun: Total War"
"Perfect Dark Zero"
Awards and nominations
Nomination - British Academy of Film and Television Arts - Performer, 2011, for "Total War: Shogun 2".
Trivia
External Link
Ad blocker interference detected!
Wikia is a free-to-use site that makes money from advertising. We have a modified experience for viewers using ad blockers

Wikia is not accessible if you've made further modifications. Remove the custom ad blocker rule(s) and the page will load as expected.