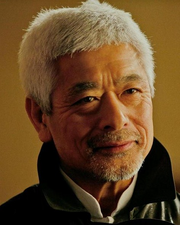 Togo Igawa is a Japanese actor born in Tokyo on September 26th, 1946. He has worked primarily in British film and television.
Voices
UK/US
Filmography
"Incognito" (1998)
"The Last Samuri" (2003)
"Code 46" (2004)
"Stratosphere Girl" (2004)
"Revolver" (2005)
"Memories of Geisha" (2005)
"Irish Jam" (2006)
"Speed Racer" (2008)
"Le Herisson" (2009)
"Matter of Size" (2009)
"Night Train" (2009)
"Johnny English: Reborn" (2011)
"Gambit" (2012)
"Hector and the Search For Happiness" (2014)
Television
"Lovejoy" (1992)
"Yu-Gi-Oh!" (2005)
"Robotboy" (2005-2008)
"Torchwood" (2006)
"Primeval" (2008)
"The IT Crowd" (2006-2008)
"European Train Journey's - BS Fuji" (2009)
"The Hedgehog" (2009)
Thomas and Friends (2009–present)
Games
"Mini Ninjas"
"Genji: Dawn of the Samuri"
"Shogun: Total War"
"Perfect Dark Zero"
Awards and nominations
Nomination - British Academy of Film and Television Arts - Performer, 2011, for "Total War: Shogun 2".
Trivia
Both he and Rupert Degas voiced characters on "Robotboy".
Both he and William Hope appeared in the same episode of "Drop the Dead Donkey".
He voiced Zhang Li in the video game "Perfect Dark Zero" alongside Martin Sherman. Masaharu Satō voiced his character in the Japanese version.