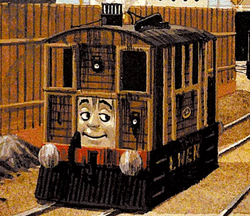 Toby's Brothers
Class: GER C53/LNER J70
Designer: James Holden
Builder: Stratford Works
Built: Between 1903 and 1921
Configuration: 0-6-0T
Toby had several brothers, all LNER J70 trams like him, with whom he worked in his younger days at the Harbour.
Toby is now old and his brothers have not been heard of since. As all the real J70 tram engines were scrapped, it can be assumed that Toby's brothers have been as well.
Livery
Toby's brothers all had brown paint and black sideplates with "LNER" written on them in yellow.
Appearance
Gallery