"Thomas the Tank Engine isn't exactly one of the bad guys."
―Tiril Heide-Steen on the show's criticism, 2015 VG interview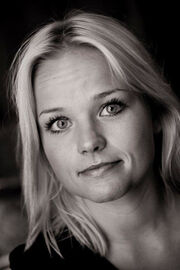 Tiril Heide-Steen is a Norwegian singer and actress who voices characters in the Norwegian version of Thomas & Friends.
She is the daughter of deceased actor Harald Heide-Steen Jr. She is best known for voicing Twilight Sparkle in "My Little Pony: Friendship is Magic". She also voices Angie in "Violetta" on Disney Channel.
She joined the voice cast in Tale of the Brave.
In 2015, Tiril, along with Trond Teigen, Mari Maurstad, and Terje Strømdahl, was interviewed by the Norwegian newspaper "VG" about the criticism Thomas and Friends gets. She states that she finds the statements ridiculous, and that Thomas is not one of the "bad guys" when it comes to children's television.
Voices
Marion (Tale of the Brave only)
Trivia
Both she and Talya Barkay voice Twilight Sparkle from "My Little Pony: Friendship is Magic" in their respective languages.

Analiz Sánchez, Mikołaj Klimek, Héctor Moreno, Enrique Cervantes, Susana Moreno, Michał Podsiadło, Claudia Motta, Javier Olguín, Simen Sand, Klaudiusz Kaufmann, Justyna Bojczuk, Anna Gajewska, Ricardo Silva, Carlos Hernández, Ewa Serwa, Loretta Santini, Irina Índigo, Zbigniew Konopka, Isabel Romo, Raúl Solo, Zuzanna Galia, Kim Seung-jun, Grzegorz Kwiecień, Jacek Król, Benedikte Kruse, Eduardo Fonseca, Annie Rojas, Sergio Morel, Elsa Covián, Julia Kołakowska-Bytner, Susa Saukko, Kenta Miyake, Joanna Pach-Żbikowska, Moisés Iván Mora, Mia Kadosh, Masashi Ebara, Igor Cruz, Norma Iturbe, Petri Hanttu, Hiroshi Iwasaki, Anna Apostolakis, Przemysław Stippa, Markus Bäckman, Leszek Zduń, Janusz Wituch, Edson Matus, Paweł Szczesny, Gerald Schaale, Leyla Rangel, Piotr Bajtlik and Tesshō Genda have also starred in "My Little Pony: Friendship is Magic".
External Links