"Thomas the Tank Engine isn't exactly one of the bad guys."
―Tiril Heide-Steen on the show's criticism, 2015 VG interview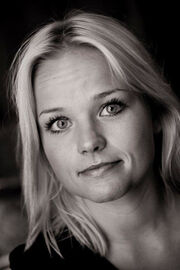 Tiril Heide-Steen is a Norwegian singer and actress who voices characters in the Norwegian version of Thomas & Friends.
She is the daughter of deceased actor Harald Heide-Steen Jr. She is best known for voicing Twilight Sparkle in "My Little Pony: Friendship is Magic". She also voices Angie in "Violetta" on Disney Channel.
She joined the voice cast in Tale of the Brave.
In 2015, Tiril, along with Trond Teigen, Mari Maurstad, and Terje Strømdahl, was interviewed by the Norwegian newspaper "VG" about the criticism Thomas and Friends gets. She states that she finds the statements ridiculous, and that Thomas is not one of the "bad guys" when it comes to children's television.
Voices
Marion (Tale of the Brave only)
Trivia
Both she and Talya Barkay voice Twilight Sparkle from "My Little Pony: Friendship is Magic" in their respective languages.
External Links
Ad blocker interference detected!
Wikia is a free-to-use site that makes money from advertising. We have a modified experience for viewers using ad blockers

Wikia is not accessible if you've made further modifications. Remove the custom ad blocker rule(s) and the page will load as expected.