"My character Ashima really shines through as being strong and adventurous and I am particularly pleased that she will be such a positive role model for so many girls across the globe."
―Tina Desai referring to her role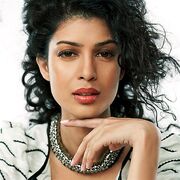 Tina Desai (born, Tena Babbar Desae, 24 February 1987 in Bangalore, Karnataka, India) is an Indian actress and model. She joined the English voice cast in The Great Race.
She is known for appearing in various Hindi-language films such as "Yeh Faasley", "Sahi Dhandhe Galat Bande", "Table No. 21" and "Dussehra".
Internationally, she is most famous for her roles as Sunaina in "The Best Exotic Marigold Hotel" series and as Kala Dandekar in Netflix's sci-fi drama series "Sense8".
Voices
UK/US
Songs
Filmography
Films

Yeh Faasley (2011)
Sahi Dhandhe Galat Bande (2011)
Cocktail (2012)
The Best Exotic Marigold Hotel (2012)
Table No.21 (2013)
Dussehra (2014)
The Second Best Exotic Marigold Hotel (2015)
Sharafat Gayi Tel Lene (2015)
Thomas & Friends: The Great Race (2016)

Television

Sense8 (2015–present)
Thomas & Friends (2016-present)
Trivia
Gallery
External links
"Welcome to the Steamworks, my friend!"

This article is a stub. You can help by expanding it.
Ad blocker interference detected!
Wikia is a free-to-use site that makes money from advertising. We have a modified experience for viewers using ad blockers

Wikia is not accessible if you've made further modifications. Remove the custom ad blocker rule(s) and the page will load as expected.