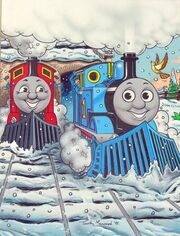 Timothy "Tim" Marwood (1954-2008) was an illustrator for the Thomas and Friends magazines. He began illustrating the Thomas and Friends magazines in 1987, up until 2007. He died peacefully on April 18th, 2008 at the age of fifty-three. Some of his original magazine illustrations turn up in auctions from time to time.
Gallery
"Welcome to the Steamworks, my friend!"

This article is a stub. You can help by expanding it.
Ad blocker interference detected!
Wikia is a free-to-use site that makes money from advertising. We have a modified experience for viewers using ad blockers

Wikia is not accessible if you've made further modifications. Remove the custom ad blocker rule(s) and the page will load as expected.