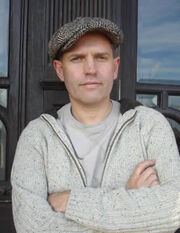 Tim Whitnall (born June 27th, 1961 in Canvey Island, Essex, England, UK) is an English actor and prolific voice-over artist who provides voices for the UK and US narrations of Thomas & Friends.
He appeared in the CITV comedy "Mike and Angelo" and has provided voices for many children's shows including "Roary the Racing Car", "Fifi and the Flowertots", "Teletubbies" (as the show's narrator), "Tree Fu Tom", "The Mr. Men Show", and "Underground Ernie".
He runs the production company Feather Productions with partner Anna Murphy.
Voices
UK/US
UK
US
Songs
Filmography
Films

Animal Farm (1999)
Rainbow Magic: Return to Rainspell Island (2010)
Devil's Playground (2010)
Thomas and Friends: Tale of the Brave (2014)
Thomas and Friends: Sodor's Legend of the Lost Treasure (2015)
Thomas and Friends: The Great Race (2016)

Television

Play for Today (1980)
The All Electric Amusement Arcade (1983)
Summer Season (1985)
C.A.T.S. Eyes (1986)
The Bill (1989)
Bergerac (1990)
Mike and Angelo (1990-2000)
Link's Shorts (1997)
Teletubbies (1997-2001)
It's Itsy Bitsy Time (1999)
MechaNick (2003)
Fifi and the Flowerpots (2005-2006)
Underground Ernie (2007)
The Beeps (2007-2008)
Roary the Racing Car (2007-2009)
The Mr. Men Show (2008)
Muddle Earth (2010)
Tree Fu Tom (2012-2014)
Henry Hugglemonster (2013)
Thomas & Friends (2014-present)

Games

Play with the Teletubbies (2000)
The World Is Not Enough (2000)
Trivia
External links
Ad blocker interference detected!
Wikia is a free-to-use site that makes money from advertising. We have a modified experience for viewers using ad blockers

Wikia is not accessible if you've made further modifications. Remove the custom ad blocker rule(s) and the page will load as expected.