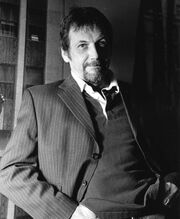 Tim Staffell, born on the 24th February, 1948 in London, England worked as a model maker for the first season of Thomas the Tank Engine and Friends. As well as making the models of most of the engine characters, he made models for the human characters and an early model of a truck.
In his earlier years, Staffell played bass guitar for the band "Smile", which he had created with guitarist Brian May and drummer Roger Taylor. Together the trio wrote songs such as "Earth", "Blag", "Doing All Right", "Polar Bear" and "April Lady". He later left to join bands "Humpy Bong" and "Morgan", and when Freddie Mercury and John Deacon joined "Smile", it was renamed "Queen".
"Doing All Right" can be heard on Queen's first album.
"Welcome to the Steamworks, my friend!"

This article is a stub. You can help by expanding it.
Ad blocker interference detected!
Wikia is a free-to-use site that makes money from advertising. We have a modified experience for viewers using ad blockers

Wikia is not accessible if you've made further modifications. Remove the custom ad blocker rule(s) and the page will load as expected.