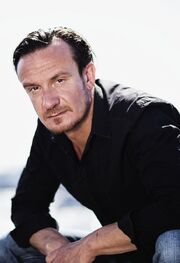 Tim Grobe (born 1969 in Duisburg) is a German actor, who joined the German voice cast of Thomas & Friends in Journey Beyond Sodor.
He is known for plaing in various German television shows and films such as "Zeitfenster", "Tatort – Mein Revier", Notruf Hafenkante", "Großstadtrevier", "Alles Klara", "SOKO Leipzig", "Polizeiruf 110 – Liebeswahn", "Die Pfefferkörner", "Der Hafenpastor und das graue Kind" and "Prinz Himmelblau und Fee Lupine". But he is also known for voicing Oonoki and Mouryou from "Naruto Shippuden", various characters from "The Furchester Hotel" and Jet-Vac from "Skylanders Academy".
Voices
Songs
Trivia
He, Henning Nöhren, Lennardt Krüger, Christian Stark, Tobias Schmidt, Christian Rudolf, Fabian Harloff, Robert Kotulla, Konstantin Graudus, Merete Brettschneider, Tim Kreuer, Oliver Böttcher, Robert Missler, Patrick Bach, Jürgen Holdorf, Jan-David Rönfeldt, Joshy Peters, Sascha Draeger, Michael Bideller, Joey Cordevin, Christos Topoulos, Volker Hanisch, Nils Rieke, Peter Weis, Rainer Schmitt, Jens Wendland, Martin May, Bernd Stephan, Robin Brosch, Eberhard Haar, Angela Quast, Kai-Henrik Möller, Achim Schülke, Sonja Stein, Marion von Stengel, Jesse Grimm, Henry König, Lutz Herkenrath, Dagmar Dreke, Knud Riepen, Gerhart Hinze, Erik Schäffler, Jennifer Böttcher, Joachim Kretzer, Manuela Bäcker, Daniel Welbat, Klaus Dittmann, Martin Lohmann, Celine Fontanges, Till Huster, Ben Hecker, Matthias Klimsa, Simona Pahl, Monty Arnold, Anne Moll, Walter Wigand, Oliver Warsitz, Andreas Kleb, Benjamin Morik, Johannes Semm, Martin Brücker, Ivo Möller, Katharina von Keller and Achim Buch have all worked on the German dub of "Naruto".
He, Albrecht Ganskopf, Konstantin Graudus, Knud Riepen, Tobias Diakow, Martin May, Achim Buch, Henning Nöhren, Benjamin Morik, Judy Winter, Henry König, Charlotte Hedwig, Margret Homeyer, Jürgen Uter, Douglas Welbat, Lutz Herkenrath, Michael Weckler, Rainer Schmitt, Robin Brosch, Achim Schülke, Marek Erhardt, Holger Mahlich, Werner Cartano, Sky du Mont, Klaus Sonnenschein, Volker Bogdan, Jörg Gillner, Manfred Steffen, Christian Brückner, Erik Schäffler, Burkhard Schmeer, Christian Rudolf, Frank Schröder, Oliver Warsitz, Peter Weis, Marie-Luise Schramm, Wilfried Herbst, Fabian Harloff, Oliver Böttcher, Robert Kotulla, Helmut Krauss, Christian Stark, Lutz Harder, Anne Moll, Marion von Stengel, Renate Pichler, Matthias Klimsa and Eckart Dux have all worked on "Tatort".