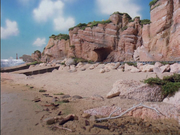 Tidmouth Beach is a beach located on Duck's Branch Line. A lighthouse is located here as well. It is also a popular attraction for holidaymakers.
Bulstrode was towed to this beach and was turned into a children's playground. In the magazines, Salty once crashed into the beach.
It was first seen in the third season and has made regular appearances since. It has also made infrequent appearances in the magazines.
Appearances
Ad blocker interference detected!
Wikia is a free-to-use site that makes money from advertising. We have a modified experience for viewers using ad blockers

Wikia is not accessible if you've made further modifications. Remove the custom ad blocker rule(s) and the page will load as expected.