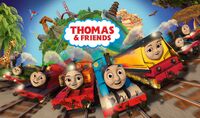 Events relevant to this wiki
Forthcoming events
Recent events
Events on this wiki
April 9th, 2015 - Milestone of 6,000 articles reached!
December 27th, 2013 - Milestone of 5,000 articles reached!
December 6th, 2012 - Milestone of 4,000 articles reached!
July 2011 - Milestone of 3,000 articles reached!
March 16th, 2011 - The Wikia marks its fifth anniversary!
February 2010 - Milestone of 2,000 articles reached! And the mini-milestone of 2010 articles in 2010!
September/October 2008 - Milestone of 1,000 articles reached! However, there may be false pages of fan fiction that try to appear legitimate that could be counted like the normal pages - this situation should not be a problem though when new official material like new characters and episodes from future television series seasons come in time to secure the milestone properly.
April 14 2008 - 800 articles reached.
December 19 2007 - A wiki for TUGS, the sister series to Thomas the Tank Engine, has been opened.
December 14 2007 - 500 articles reached. However, many are stubs. Article expansion is now the main aim of the wiki.
November 24 2007 - 250 articles reached.
November 12 2007 - 150 articles reached, a lot due to transwiki from Wikipedia.
November 5 2007 - 100 articles reached.
March 16th, 2006 - The Wikia is founded!
Ad blocker interference detected!
Wikia is a free-to-use site that makes money from advertising. We have a modified experience for viewers using ad blockers

Wikia is not accessible if you've made further modifications. Remove the custom ad blocker rule(s) and the page will load as expected.