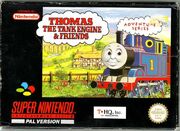 Adventure Series is a video game released for the Super Nintendo Entertainment System in 1993. It was also released for the Sega Genesis with different gameplay. It was developed by Software Creations and published by THQ.
Difficulty Levels
After the title screen, the option to select the game's difficulty level (determined by "age") is given. Besides the difficulty, the only major difference is the addition of an extra story without narration.
Characters
Minigames
The Sliding Puzzle
Setting the Switches
The Jigsaw Puzzle
Let's Race Bertie or Percy (James in the NES version)
Fixing the Tracks
Let's Go with Thomas!
Thomas' Quiz
A glove cursor can be moved to select the activities.
Stories
Nintendo Entertainment System Prototype
A prototype for this title was developed for the Nintendo Entertainment System. It was identical in gameplay and characters to its Super Nintendo counterpart, but with 8-bit graphics and music. Although it was finished, it was never released commercially and a ROM dump was made for emulators.
Goofs
Harold is in one of the interactive parts on "Thomas and Bertie", but he was not in the story.
In the racing levels, Thomas and Percy's footplates are not coloured light grey.

In addition, Percy's dome is not coloured gold, and his wheels are red.

In "Thomas, Percy and the Mail Train", Thomas is taking Annie and Clarabel instead of Mail Coaches.