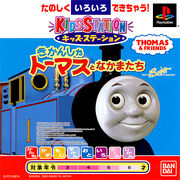 Thomas the Tank Engine is a PlayStation game developed by Bandai and it was released exclusively in Japan in 2000.
Characters
Deleted Scenes
Episodes
Characters Episode
Trivia
This game is not compatible with the PlayStation 3 or PlayStation 4 (even the Japanese versions), but however, this game is compatible with the PlayStation 2.
Goofs
Thomas and Edward have the same whistle sound.
Gordon, James and Donald have Duck's whistle sound.
Sir Handel has Oliver's whistle sound.
Bill and Ben have George's whistle sound.
Peter Sam has Skarloey or Rheneas' whistle sound.
At the end of James' Counting Passengers game, James is pulling Annie and Clarabel, Clarabel is facing the wrong way, and also Annie and Clarabel's names are missing.
"Welcome to the Steamworks, my friend!"

This article is a stub. You can help by expanding it.
Ad blocker interference detected!
Wikia is a free-to-use site that makes money from advertising. We have a modified experience for viewers using ad blockers

Wikia is not accessible if you've made further modifications. Remove the custom ad blocker rule(s) and the page will load as expected.