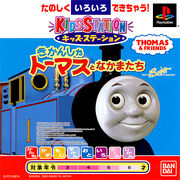 Thomas the Tank Engine is a PlayStation game developed by Bandai. It was exclusively released in Japan in 2000.
Characters
Deleted Scenes
Episodes
Characters Episode
Trivia
This game is not compatible with the PlayStation 3 or PlayStation 4 (even the Japanese versions), but it is compatible with the PlayStation 2.
In one minigame, sometimes the custom engines use Thomas or Percy's whistle at lower pitches.
Goofs
Thomas has Edward's whistle sound.
Gordon has Duck's whistle sound, while James, Donald, Douglas and Sir Handel all use the same whistle sound, only at different pitches.
Bill and Ben have George's whistle sound at different pitches.
Trevor's whistle sound is at a half step lower in pitch.
James' wheels have been grey in every almost mini-game, they could however be coloured black in James' Painting Game.
Duck's handrails are yellow, when they should be grey.
In one minigame, Percy's funnel is put on the wrong spot. It is supposed to be on his smokebox, and not on the green part.