Thomas the Tank Engine (Commodore 64 game)
Comments

0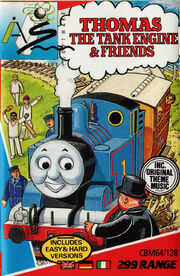 Thomas the Tank Engine was the first of two Thomas the Tank Engine and Friends games produced for the Commodore 64 system. The aim of the game was to complete seven days of jobs. The game was released in 1990.
Characters
Difficulty
The are two modes. The harder of the two is "Normal". Several of the things that result in a negative effect include trees on the line, losing control if going at a high speed, and colliding with either Duck or Diesel.
Scoring
The scoring system is as follows:
Passing through a frame: 5 points
Bouncing bonus': 200-800 points
Station bonus': 1000 points
Picking up the truck: 1000 points.
It is possible to trick the score system by repeatedly going back and forth between two frames and waiting for bouncing bonus'.
Gallery