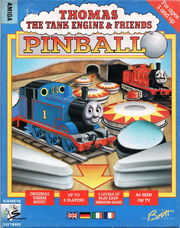 Thomas the Tank Engine & Friends Pinball is a video game developed by Spidersoft Software in 1994. The game allows players on pinball tables based around Thomas, James, Percy or Toby.
Characters
Goofs
James and Toby's themes are switched, and they are missing their numbers on the table select screen.
Percy's wheels are black instead of green, and James' lining on the tender and wheel arches are yellow instead of black.
On James' table, it says "Really Useful Engine" instead of "Really Splendid Engine", and there is no "Really Useful Engine" on Thomas' table.
Gallery
Ad blocker interference detected!
Wikia is a free-to-use site that makes money from advertising. We have a modified experience for viewers using ad blockers

Wikia is not accessible if you've made further modifications. Remove the custom ad blocker rule(s) and the page will load as expected.