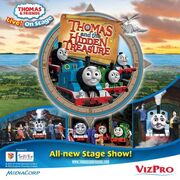 Thomas and the Hidden Treasure is an Asian-Exclusive live stage show produced by HiT Entertainment and Smile Live Entertainment in 2012.
Plot
It is a busy time on Sodor for Thomas and his friends as they help the Fat Controller prepare to welcome a group of holiday makers, who are visiting the island. Thomas is given the exciting and very important job of taking the visitors on a Pirates of Sodor Tour, but he gets distracted at the prospect of finding treasure. Will Thomas be able to find the treasure and delight his passengers, or will he cause confusion and delay and spoil their holiday?
Characters
Songs
What Should We Do with a Grumpy Pirate?
Thomas, the One and Only You
Another Busy Day on the Engines
Trivia
Unlike the other Live shows, this one only plays in Asian countries such as Hong Kong or Singapore, the company who produced it also produced other Asian-Exclusive live shows based on HiT Entertainment properties.
Ad blocker interference detected!
Wikia is a free-to-use site that makes money from advertising. We have a modified experience for viewers using ad blockers

Wikia is not accessible if you've made further modifications. Remove the custom ad blocker rule(s) and the page will load as expected.